BLOOMFIELD TREASURES ANTIQUES
Olde Century Colors Latex Paint & Briwax

Olde Century Colors Latex Paint




Bloomfield Treasures is a retail outlet for Olde Century Colors!


Recapture the Glow of the past with the Quality and Selection of the present......

Olde Century Acrylic Latex Colors represent the best technology available in water based paints. Adhesion and film durability are exceptional. This paint provides excellent coverage in one coat, good gloss retention and color permanence. The paint flows on easily and dries to a low, soft sheen finish. Plus it has all the advantages of a water base: quick drying, low odor, non-yellowing, and soap and water cleanup. The finish is tough and very washable.
*FOR EXTERIOR AND INTERIOR USE*
*AVAILABLE IN 37 Historical COLORS*
If you are looking for a true black paint we have just what you are looking for....Lamp Black is a true black!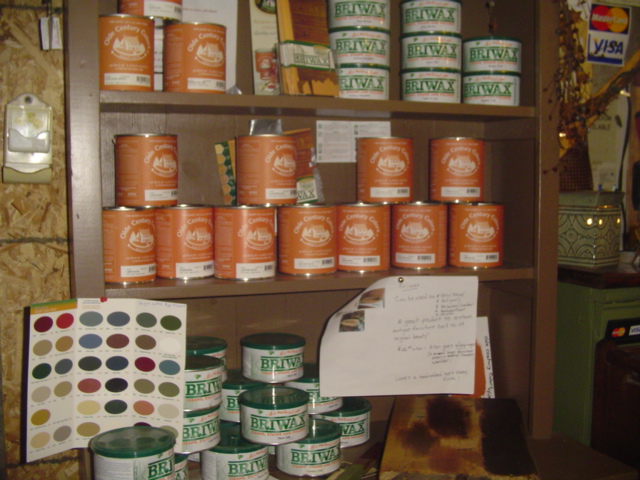 Olde Century Colors paints have been formulated to lead the renaissance of 18th and 19th century architectural interest with unsurpassed quality and color selection.
Recapturing the tradition of the early American paint craftsman, our acrylic latex paints are manufactured in small batches with the same meticulous attention to detail as our skilled forefathers. Olde Century Colors have been carefully selected from 18th and 19th century architectural examples.
These warm, rich earth tones reflect a gracious past and provide contemporary elegance. This careful selection process is followed by our unique pigment grinding process and is then guided through the time honored method of batchmaking.
This process coupled with the finest available raw materials sets the standard for Olde Century Colors..."First in Quality and Performance."
Specifically formulated for all painting requirements from interior and exterior architecture to fine furniture. Performance is state of the art while the paint will leave a subtle brush stroke in the dried film, a feature characteristic of hand crafted batches of the 1800s.
For more information on Olde Century Colors visit their website
www.oldecenturycolors.com
310 ROUTE 121 BLOOMFIELD, NB CANADA
Always a Treasure to be Found!
Back to Home Page